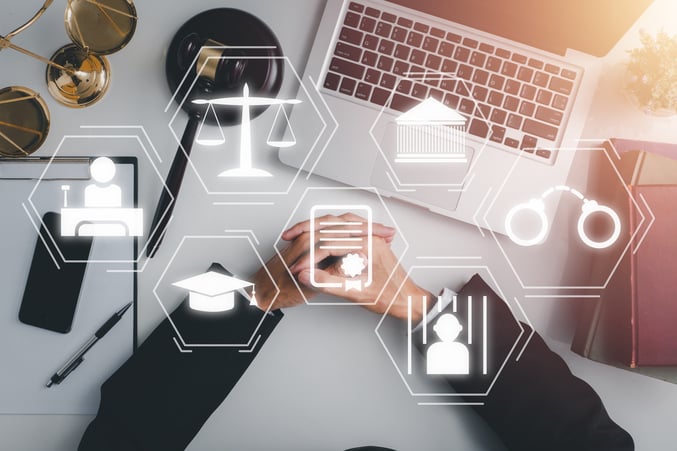 Contrary to 2021, this year saw less overall activity from state legislatures. Items such as the midterm elections, budget processes, and redistricting following the 2020 census have taken up significant time for legislators. However, issues from 2021, such as presumptions, opioids, and telehealth/electronic prescribing, have remained of high interest in 2022. Meanwhile, cannabis and worker classification gained more exposure this year than previously seen.
Opioids
Opioids remain a frequent topic for legislators on both sides of the aisle. For decades states have focused on a number of methods to reduce opioid abuse ranging from bolstering state prescription drug monitoring programs to, more recently, requiring or advising the dispensing of opioid antagonists with any opioid prescription. The emergence of new proposed CDC guidelines on opioids is also likely to make a significant impact, with pain management advocates calling it a good step in the right direction for thousands of Americans living with chronic pain. Opioid prescribing so far declined almost 45 percent in the last decade, according to the American Medical Association. Some states taking action on opioids include:
Illinois enacted legislation that would require a pharmacist to offer an opioid antagonist to any patient being prescribed opioids.
Oklahoma enacted legislation adding an exemption for sickle cell disease from opioid prescribing limitations to aid with pain management.
Arizona successfully changed its intractable pain definition to allow those with chronic intractable pain to access dosages necessary to their prescribed clinical treatment.
Maryland's legislature considered a bill that would require the prescriber to educate the patient of potential opioid risks and offer an opioid antagonist.
Massachusetts proposed a bill that would affix a label to opioid prescriptions on the potential dangers of opioids.
Minnesota introduced legislation to modify the state's definition on intractable pain which would allow physicians to prescribe higher dosages to those experiencing intractable pain.
New Jersey legislators considered a bill that would allow patients to indicate they should not be prescribed opioids and certain other controlled substances in the state's prescription monitoring program (PDMP) information. Legislators in the Garden state also considered a bill that would permit higher dosages for cases of severe acute pain.
New York introduced legislation that would require healthcare professionals to inquire about the history of opioid use for certain patients. State leaders also considered a bill that would require patient counseling before an opioid prescription is dispensed.
Telehealth/Electronic Prescribing

Before the pandemic, several states did not allow for telehealth in workers' compensation. Now almost all states do in some capacity with certain exceptions. The demand for virtual visitations continues to rise as 89 percent of healthcare industry leaders say they are now investing substantially in telemedicine capabilities. Although gaps in telemedicine exist, with millions of Americans still lacking broadband network connectivity, the technology will likely continue to become a norm in workers' compensation. Examples of telemedicine and electronic prescribing legislation proposed or enacted so far in 2022 include:
Mandates for electronic prescribing for all or certain controlled substances went into effect in 2022 for UT, NE, IN, NH, MD while mandates for electronic prescribing for all prescriptions went into effect for CA and MI.
New York proposed allowing for telepharmacy services and permitting telehealth visits for mental health injuries in workers' compensation.
New Jersey introduced a bill that would require all prescriptions to be sent electronically.
West Virginia proposed requiring prescriptions be made by electronic means.
Presumptions
Presumption coverage significantly increased since the start of the Covid-19 pandemic providing more coverage for infectious diseases and a new outlook on presumptions for mental health, cancer, and chronic illness. Increased protections for first responders were the most common amongst states that considered presumptions in 2022. Presumptions make it easier for certain workers to file workers' compensation claims as it presumes the worker became injured or ill from their job duties. Some examples in 2022 include:
Arizona passed a bill that would add female related cancers to the state's presumption list as did Oregon and Maine.
Florida statehouse leaders successfully altered the state's PTSD presumption affording more time to injured first responders to file a claim.
Minnesota extended its covid-19 presumption into 2023 for first responders and frontline workers.
Utah expanded its presumption coverage for firefighters to include volunteer firefighters.
Virginia extended its presumption for Covid regarding healthcare providers into 2023. The state also looked into a number of presumptions for heart disease, hypertension, covid-19 and certain cancers for state first responders.
Washington state enacted legislation that would provide a workers' compensation presumption to nuclear waste workers for certain diseases and cancers.
Connecticut & New York considered proposals that would expand workers' compensation to cover PTSD for "all employees."
Georgia statehouse members mulled a proposal to provide a PTSD presumption to state first responders.
Idaho statehouse leaders introduced legislation that would provide a workers' compensation presumption for those who experienced adverse injury from employer mandated vaccinations.
Maryland proposed a presumption for 911 operators diagnosed with PTSD. State leaders also considered a formal Covid presumption.
Michigan introduced a bill that would extend its heart and respiratory disease presumption to part time and volunteer first responders.
New York introduced legislation to add Covid-19 as a compensable occupational disease. State leaders also looked into a presumption for first responder diagnosed with Lyme disease.
Oklahoma proposed a PTSD presumption for state first responders.
West Virginia legislators considered adding certain cancers to the state's presumption list for firefighters.
Worker Classification
Since California's Proposition 22 ballot initiative that would classify rideshare drivers as independent contractors, several states have altered their worker classification statutes. Being considered an independent contractor rather than an employee forfeits certain benefits such as workers' compensation. As the gig economy continues to develop and evolve, several states will likely attempt to address whether gig workers are considered employees or independent contractors. Some state examples in 2022 include:
Alabama enacted legislation that excludes certain gig workers from the definition of employment, thus making them independent contractors.
A ballot initiative to alter the worker classification of rideshare drivers in Massachusetts failed to make the ballot for November after the Supreme Judicial Court recently determined the ballot question's language as containing subjects that were not "related or mutually dependent" as necessary per the state constitution.
South Dakota passed legislation that clarifies a "delivery facilitation contractor" is considered independent of a delivery facilitation platform.
Washington state passed legislation that would protect rideshare drivers' wages and ensure workers' compensation benefits.
Georgia lawmakers considered a bill that would create a formal study on the matter.
Rhode Island & Vermont introduced legislation that would somewhat replicate California's ABC classification method which would create a multi-pronged test to determine if a worker is considered employee or independent contractor.
Cannabis
Although still considered a schedule substance under the federal Controlled Substance Act, many states have looked to legalize the substance for recreational or medicinal purposes. Currently, 19 states and D.C. allow for recreational use of cannabis, while 38 states permit for medical cannabis usage. This leaves just 12 states without a formal medical cannabis program. However, eight of the twelve states without a formal medical cannabis program allow for CBD/Low THC utilization for individuals with certain conditions leaving just three states (ID, NE & KS) with strict bans on the substance.
For workers' compensation, reimbursement for medical cannabis remains a controversial subject. While the U.S. Supreme Court (SCOTUS) had been asked to review the matter, the DOJ asked the court to pass on taking up the case, leaving the issue to likely continue being resolved in state courts. Some state actions on cannabis in 2022 include:
New Jersey and New York are both considering legislation that requires workers' compensation coverage for medical cannabis under certain situations.
RI, SD & MS passed legislation that does not require worker's compensation insurers to reimburse for medical cannabis. KY, ME & NE introduced similar legislation.
Based on court precedent NY and NH have ruled medical cannabis reimbursement in worker's compensation is allowed, meanwhile MA and MN say reimbursement is not required.
2022 and Onwards
So far, 2022 legislative activity can be classified as gradual; however, 2023 is likely to see more legislative action, with midterm elections concluding in November. Covid bills will still make a presence but in a much lower capacity than in previous years, leaving other issues to see some attention. Issues such as mental health/PTSD coverage in workers' compensation are likely to be addressed amid the country's growing mental health crisis. Expanding telemedicine and electronic prescribing utilization is also more likely to see a boost as providers look to modernize and mitigate existing staffing issues.