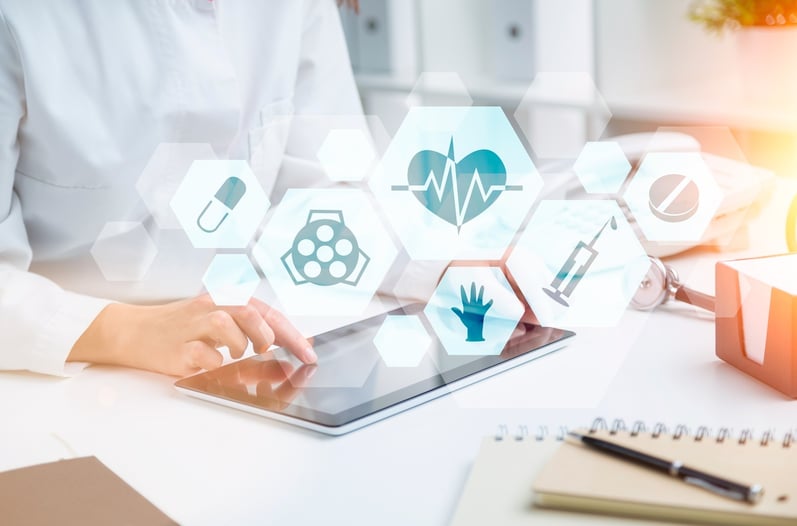 In today's world, technology impacts almost every major industry. Your wants and needs are now at your fingertips thanks to technological advances like Facebook, Google and smartphones.
In the same way Facebook allows you to socially connect with new or old friends, technology is helping millions of people stay better connected to their health. In fact, 52% of smartphone users gather health-related information on their phone. This includes everything from prescription information, health insurance coverage and mental health questions.
Sites like WebMD and American Public Health Association provide a portal for users to stay current on healthcare topics, while allowing them to browse for necessary information on things like heart disease and smoking cessation. But it's not just patients who can benefit from these advances. Healthcare providers are using technology to their advantage in an effort to better connect and treat their patients.
In a digital world, the future of healthcare will always be evolving. Here are some of the ways technology has helped strengthen patient care.
Patient Portals
With busy schedules plaguing both providers and patients, Patient Portals allow patients to communicate with their healthcare providers, like physicians or pharmacies, with the click of a button. While many office hours range from 9-5, Patient Portals allow you 24-7 access to your own health information electronically – like health records, medication lists and patient profiles.
These web based portals have become a major addition to many healthcare practices, with an estimated 57% of providers implementing a Patient Portal as of 2012 and have helped improve communications between patient and provider.
Electronic Prescribing
According to the FDA, more than 95,000 prescription drug errors have occurred since 2000, largely due to hand-written or verbal confusions when transferring a prescription to a pharmacy. This issue, along with drug diversion, have become a major reason why more and more states are moving towards mandatory electronic prescribing laws.
How does electronic prescribing work? When your provider is ready to send a prescription to the pharmacy, instead of faxing or calling it in, the provider enters the medication information into an electronic health record (EHR) system. The system then transmits the prescription to the pharmacy of choice, securely and without the risk of diversion. This process eliminates the need for hard copy scripts, speeding up the prescription process and leading to faster treatment for the patient.
Telemedicine
There is often confusion between the terms "Telemedicine" and "Telehealth". And while both practices offer different services, the technological aspects of both have been steadily becoming more prominent in today's healthcare system.
So what is telemedicine? Telemedicine is ability to provide interactive healthcare utilizing modern technology and telecommunications. For instance, if you live in Colorado but your provider is traveling to California, they may invite you to communicate via live video or software, to treat you remotely. This enables providers to provide quick diagnosis more conveniently.
Since this practice is still a newer concept in the healthcare industry, some argue its nontraditional format has a negative effect on patient care. Continued adherence issues and inadequate assessments remain on the top of the disadvantages of telemedicine.
While the country and government continue to focus on the complexities of the healthcare system, researchers and developers are making moves to introduce the newest wave of technology. As modern medicine techniques continue to advance, patients and providers alike are sure to see changes in both how their treatment is scheduled and delivered.