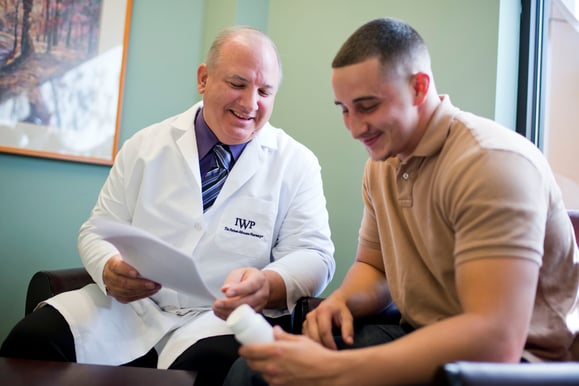 By the time you've reached IWP's Customer Care team, you've probably had it with the workers' compensation system. Many of our patients are referred to IWP by their doctor or attorney after having difficulty filling their prescription medications at a local pharmacy.
After hearing about the differences between IWP vs. retail pharmacy from former retail pharmacist and current IWP Pharmacist, Frank Pallaria, we understood more than ever that injured workers across the country were dealing with delays, denials and a lack of pharmacist attention.
Our team at IWP was constructed so that each department concentrates on a specific part of the prescription process. Our Pharmacists work to review, fill and consult with patients on their medications, while our Claims team works with insurance companies for the reimbursement of each prescription we send out.
While each department plays an integral part of the IWP process, our Customer Care team has the most patient interaction – wearing many hats daily. Erin Leavitt is a Customer Care Technician and has been with IWP since 2015. Her experience working with patients and hearing the struggles of their prescription denials provided us insight into why we remain THE Patient Advocate Pharmacy.
What is a normal day for the Customer Care team?
Basically, we are here to help with patient's questions or the day-to-day issues they may face, including providing shipment tracking information and responding to requests sent through our Patient Portal. In addition to routing all incoming prescriptions and information to the appropriate team, we relay messages to patients regarding refill authorizations or any other pertinent information about their medication.
As one of many Customer Care Technicians, my job is to send documents received through fax, mail, and ePrescribe to their correct "home". We make sure the documents sent by patients, physicians, attorneys or insurance carriers are submitted to the correct team or team member.
We try to help every patient as efficiently and as thoroughly as possible. Our Customer Care Associates (CCA) spend the majority of their day speaking with patients over the phone.
What is the most rewarding part of your job?
The part of my job I love the most is helping people. There was a time in my life where I was very sick and in pain, so I know how difficult it can be waiting for insurance approvals for medications that will help you get better. Here, I find great satisfaction in knowing what I do can directly affect someone's quality of life.
How do patients feel once they get to you?
When a patient tells me "you have no idea how much your company has helped me" or describe how much pain they have been in while waiting for a local pharmacy to approve their medications, it makes you want to work that much harder for them.
Many of the people we speak with have incredible work accidents and have been struggling to get their medications filled locally. By the time they get in contact with us, they're frustrated and in pain. We do our best to make them feel confident in our service.
Though their days are filled with tasks and follow-ups, our Customer Care team never loses sight of what matters most – our patients. As a specialized work comp pharmacy, we work to ensure our patients are never without the medications they need to return to a productive life.