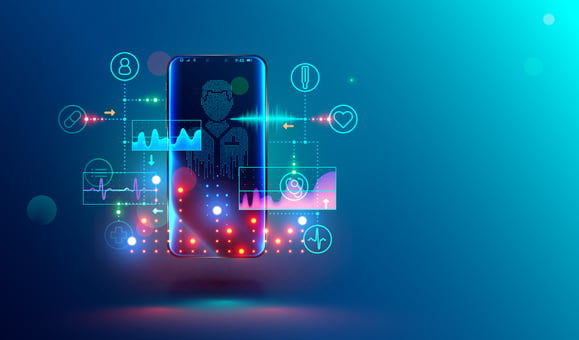 As technology becomes more available in the healthcare space, so does the use of mobile applications to monitor your health. Healthy habits after experiencing a work injury can increase your chances at a smoother recovery and help you become your best you.
From reviewing your medications to tracking how much water you drink, there's an application for almost everything in today's tech-driven world. The question is which applications are the most beneficial for injured workers who are in the process of recovering from their injury or illness?
We've pulled together a list of three health apps to help monitor your health and get you back on track.
MyFitnessPal
MyFitnessPal is an application that helps track diet and exercise to determine optimal caloric intake and essential nutrients. More than just a calorie counter, this application also helps record physical activity and water intake.
The best part about this app is that you have the ability to add your own calorie, macronutrient, physical activity, and water intake goals based on recommendations from your healthcare provider. Consuming enough calories each day and engaging in approved physical activity can help provide you with the energy you need to heal after an experiencing a major injury and may even speed up the recovery process
MyTherapy
MyTherapy is a pill reminder and medication tracker that also features a mood tracker and health journal that can be shared with your doctor. Remembering to take the medication prescribed by your doctor is extremely important when it comes to the recovery process. Without it, controlling chronic conditions, treating temporary conditions, and maintaining your overall health becomes difficult.
The Center for Disease Control and Prevention (CDC) found that non-adherence to prescribed medications causes 30-50% of chronic disease treatment failures and 125,000 deaths per year in the United States. Taking the medications prescribed by your doctor will in turn give your body the help it needs to mend.
Self-Help for Anxiety Management (SAM)
After experiencing a work injury, it can be hard to find your new normal. It's very common to experience mental health issues, such as PTSD or anxiety, as a roadblock during your recovery after a traumatic injury. Self-Help for Anxiety Management or SAM is an application that offers a variety of self-help methods for people who struggle with and are looking to manage their anxiety.
It's important to not ignore the symptoms of depression or anxiety after your injury. These can include things like, feeling anxious or angry, having trouble concentrating, and not being able to stop thinking about your injury. Using an app like SAM may help you better manage these feelings and allow you to mentally recuperate.