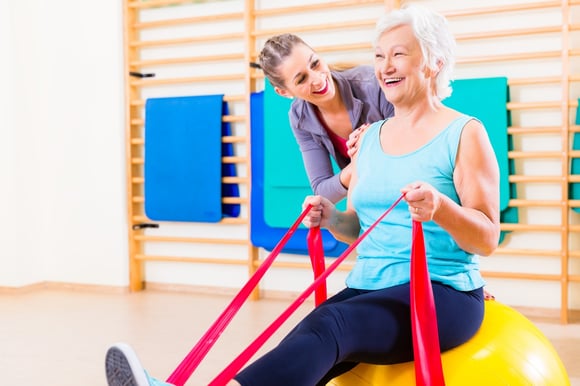 Every New Year resolutions of healthy habits come and go in the blink of an eye – or with the bite of a pizza. According to a poll from Statistic Brain, 21.4% of people polled said losing weight or developing heathier eating habits was their number one goal. Out of the 12 options that were available, 4 resolutions tied in directly to improving ones overall health – including quitting smoking, life or self-improvements, and working out more. Sadly, only 8% of people achieve their new year's resolutions each year.
What if developing healthier habits or improving your overall lifestyle could have an effect on your recovery? Recovering from an injury can often be a long, slow process riddled with emotions, anxiety and unhealthy behavior. Whether you've been injured in a work accident, sporting event or repetitive strain there are several methods to help you recuperate in a more positive, heathy way.
Here are a list of healthy behaviors to consider when recovering from an injury:
Eat a balanced diet full of vitamin dense foods. Everything from fats to protein can play a role in how quickly your body heals. Vitamins (like A, B, C, and D), calcium, copper and zinc help support tissue regeneration and reverse post-injury immune suppression.
Stick with your treatment plan. Whether your physician has you on a medication plan, physical therapy visits, or at-home exercise routines – following their strategy can help maximize your chance of success.
Set goals for yourself and put them on paper. Writing down your goals is an important step in recovery. It gives you something to attain and provides fulfillment when milestones are reached. Most experts set realistic treatment goals of about 30 percent improvement in pain function or quality of life.
Get some shut eye. You've heard it all before, rest does a body good. Poor sleep can lead to pain, fatigue and trouble concentrating – detracting you from your recovery goals. Overexertion and sleepless nights can have a negative effect on your body's functions.
While the majority of American's cannot stay true to their healthy resolutions, having lists and reminders of recovery goals could help you see an easier recovery.
For those injured in a workers' compensation accident, IWP has created the Patient Pain Resource for Injured Workers, a guide to help injured workers learn more about managing pain and important information for caregivers. Download a free copy of this resource by clicking the link below.