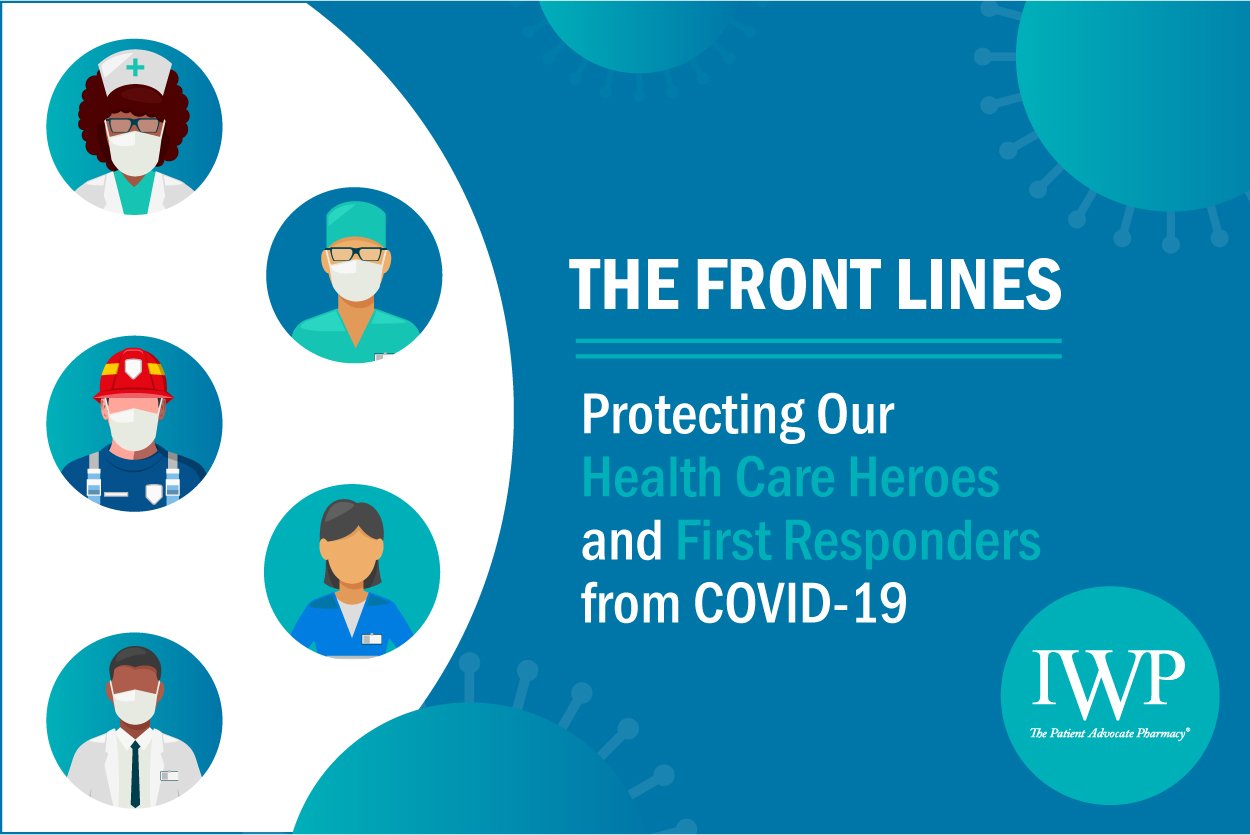 As efforts to contain, prevent, and treat COVID-19 continue across the country, new health care protocols and workers' compensation regulations come into play every day. Although non-essential businesses are closed or closing by the day, essential businesses are at the front lines, led by health care workers and first responders. Doctors, nurses, and CNAs, along with EMTs, firefighters, paramedics, and police officers: these are the people taking care of patients with Coronavirus and others in need during the unprecedented times in which we find ourselves. As they help us, it's up to us to protect them.
Donate or DIY
First responders—especially EMTs, firefighters, and police officers—and health care workers, such as nurses, doctors, and CNAs, are facing a lack of personal protective equipment, or PPE. Front line employees don't have enough face masks, gloves, goggles, gowns, or respirators. Manufacturers are trying to step up their production, and individual states are imploring the federal government for necessities from the federal stockpile. Still, the need for PPE increases more every day.
Non-essential businesses such as hair and nail salons, mechanic shops, and others, are donating PPE items that they're no longer using. Any businesses that use gloves, gowns, masks, and similar equipment are giving them to hospitals, urgent cares, and fire stations. Some industrial manufacturers have instructed their factories to begin making masks and respirators.
People are also making masks in droves. Clothing designers and manufacturers are creating gloves and gowns, especially. So are regular folks as they sit at home. Numerous resources demonstrate how to craft homemade face masks and surgical masks. Some businesses invite the public to drop off their homemade masks, which will then be delivered and donated to local health care facilities.
Take Social Distancing Seriously
As the number of confirmed COVID-19 cases continues to grow, more states are issuing stay-at-home orders that call for non-essential businesses to close and for employees to work remotely when possible. Nationwide, there's a push to:
Stay at home as much as possible
Avoid gatherings with more than ten people
And maintain a 6-foot distance between yourself and anyone who doesn't live in your home
Limit visits to the grocery store and other businesses. Don't go back and forth to anyone else's house, including family members and friends. Most, if not all, schools are closed, but you need to skip the play dates with other children if your kids are home, too.
Stick to visiting essential businesses, but don't go out too often. IWP offers home delivery for workers' compensation medications, which is another option for staying at home and away from retail stores. Every bit helps. By limiting your exposure to COVID-19, you're limiting the exposure of the essential workers you do encounter, including first responders, doctors, and nurses.
Turn to Telemedicine
The rise of telemedicine is another preventative measure that many states are taking to protect front line workers. Several states are relaxing guidelines for telemedicine to make this easier, including New York and Texas. In these states, doctors are encouraged to talk to their patients over the phone or to use a video chatting platform.
There may come the point during the pandemic when you need a doctor's opinion. Whether you visit your general practitioner or want to get in touch with the local ER or urgent care, consider telemedicine opportunities. Your doctor may be able to diagnose you over the phone and offer treatment options. That way, you won't get stuck in a waiting room with other people, nor will you risk passing germs to anyone else.
Because first responders, doctors, and nurses are face-to-face with sick and potentially sick patients every day, they expose themselves to COVID-19 regularly. Doing what we can to decrease that exposure is beneficial to the fighters on the front line.
Stay Sanitized
Often, the most helpful things you can do are also the simplest. Protecting health care workers is as easy as washing your hands and sanitizing. Right now, especially, it needs to become a second-nature habit.
Wipe down your cart when you go shopping. Health experts recommend washing down cans, bags, and other items that you bring in from the store. Wear a mask anytime you shop, too. When you come back home, throw your clothes into the washing machine and take a shower.
A Workers' Compensation Response
There's no question that the health care workers and responders at the front lines place themselves at risk every day in service to others. Too many of them come into contact with COVID-19 while they're taking care of patients that aren't even exhibiting symptoms. As a result, many states are changing their workers' compensation regulations to include coverage for first responders and health care workers who are exposed to COVID-19 on the job.
In Washington state, for instance, in early March of 2020, at least 25 health care employees had to be observed after contact with unconfirmed Coronavirus cases. In that situation, the health care workers were not aware that the patients had COVID-19 until after the patients passed away.
As it happens, Washington is also one of the first states to introduce workers' compensation measures as a means to protect front line workers quarantined because of Coronavirus. The state announced its intention to pursue protections for first responders and health care workers exposed in the line of duty.
Kentucky is also pursuing protections for front line employees under its workers' compensation statute. Although it plans to assess claims on a case-by-case basis, Kentucky Employers Mutual Insurance Company announced in mid-March of 2020 that it intended to provide wage replacement to medical employees and responders who are in quarantine after being exposed to someone with the novel Coronavirus.
Other states are working on amendments to their workers' comp regulations. In New York State, the Black Car Fund asked the legislature to put together a supplemental coverage system to assist gig economy workers. The request comes as a result of the abundance of furloughs and layoffs affecting workers throughout the country. Florida is trying to push its Risk Management Division to process workers' compensation claims for first responders who have been diagnosed with COVID-19.
Working Together, Apart
It's up to the community to step in and do what we can to ensure that our first responders and health care workers remain healthy and safe. Even if you can't donate or make masks and other protective items, you can follow social distancing, observe precautionary hygiene habits, and, most importantly, stay at home whenever possible.
Remember that you can turn to IWP to help you, as well. We have tips for people who still have to head to the office and advice about what to do if you start feeling sick. You can also rely on us to fill your workers' compensation prescriptions and send them straight to your door.
By working together, we can flatten the curve and take care of the brave, hardworking folks on the front line.
If you want to learn more about protecting yourself and others, then click the button below to view our webinar: