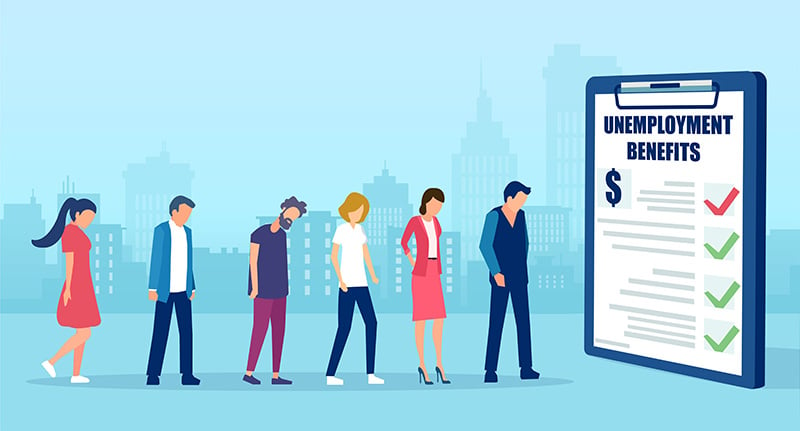 UNEMPLOYMENTS BENEFITS ENDING SEPTEMBER 6
Enhanced federal unemployment benefits that provide an extra $300 to unemployed Americans will end on September 6th. It is estimated that approximately 7.5 million Americans will be ineligible for unemployment benefits altogether, and millions more will see reduced amounts on their unemployment payments as of Labor Day weekend. Although the Biden administration permitted an extension on pausing student loans and halting evictions due to COVID-19, it is unlikely at this moment that enhanced unemployment benefits from the federal government will be granted the same extension.
In an attempt to rebound their economies over half of U.S. states (AL, AK, AZ, AR, FL, GA, ID, IN, IA, LA, MD, MS, MO, MT, NE, NH, ND, OH, OK, SC, SD, TN, TX, UT) already concluded or attempted to end the federal unemployment benefit in the hopes of people returning to work. Cutting enhance benefits early has come with mixed results. Some residents in states that stopped the enhanced benefits have taken on new jobs or begun work searches. However, the number of people that did so was not as high as anticipated, and larger factors such as the rising delta variant and lack of childcare were cited as having a heavy influence on not returning to the workforce.
While the delta variant remains a concern, the economy is recovering three times faster than it did during the Great Recession of 2008. Similarly, unemployment rates have dipped to 5.4% compared to the roughly 9% seen one year ago in August of 2020. To put it into perspective, unemployment levels hovered at 3.5% before the pandemic in early 2020. Job prospects are also improving significantly since there are approximately one million more job openings than there are people looking for work.
A few states are even offering back-to-work incentives to help return to work life. Arizona, Colorado, Connecticut, Kentucky, New Hampshire, Oklahoma, and Virginia are all rewarding residents re-entering the workforce with bonuses ranging from $1,000 to $2,000. States like Massachusetts are considering a back-to-work incentive as well. Numerous companies are also offering sign-on bonuses and or higher hourly wages. Certain sectors such as the hospitality industry are experiencing wage increases of 10 percent or more in efforts to entice workers.
Increased wages and diversified career options are more positive aspects for workers coming out of the pandemic. However, job numbers and economic resiliency will likely depend on regional circumstances, according to experts. More than 70% of Americans have at least one dose of the covid-19 vaccine, yet vaccination rates continue to vary greatly by state. Lower vaccinated states primarily in the Southeast and Midwest could face more delays to economic recovery that could also stall the labor market.
Although unemployment benefits are scheduled to end, the US Treasury and Labor departments are allowing states to utilize unused American Rescue Plan funds to make up for the end of enhanced federal unemployment benefits. Despite this development, it is expected that these unused funds will likely have minimal impact on replacing federal benefits pushing many to look for or commence employment opportunities in the coming weeks. As the labor force begins to return to work, employers, employees, and government regulators will need to continue monitoring variant surges and prepare for local and regional approaches to mitigate COVID-19 as the US continues its vaccination and economic revitalization efforts.
*italicized states attempted to end benefits early but were blocked by the courts (AR, IN, MD, OK)