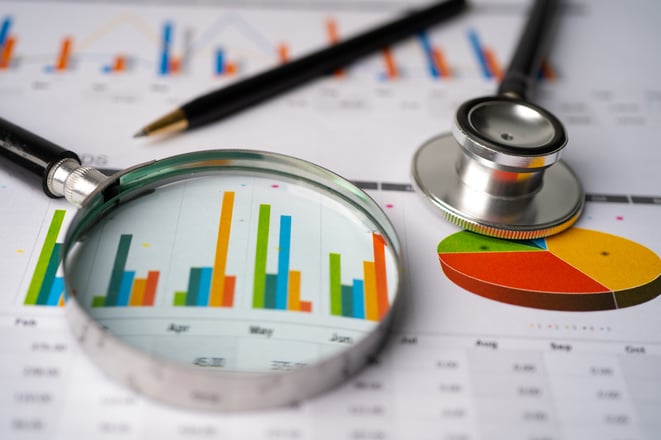 Risk & Insurance Journal released its top four national trends for payers and providers in workers' compensation

Risk and Insurance Journal released its top four trends for payers and providers in workers' compensation. Amid market uncertainty, talent acquisition issues, and recovery from the pandemic, experts point to virtual reality, MSA's, the great resignation, and a larger emphasis to handling claims with empathy are top trends for the industry.
Virtual reality research shows that virtual reality technological growth will see compound annual growth of over 30%. By 2028 the sector will be estimated at approximately 18.7 billion, a significant increase from the current value of 1.5 billion. The increased demand comes from uncertainty with provider shortages as the American Medical Association estimates a loss of 37,800 to 124,00 physicians within 12 years; specialists will likely see the highest level of shortages. Specifically, there are significant concerns that there are insufficient providers for mental healthcare amid a growing nationwide mental health crisis.
Medicare Set Aside (MSA's) are alarming some experts believing there is a lack of consistency regarding acceptance of an MSA plan.
The Great Resignation continues to impact the workers' compensation sphere. In preparation, industry leaders recommend improving technology and workflow automation systems to mitigate potential turnover and to help educate new hires more effectively.
Experts also suggest that claim handling requires more empathy and that companies should look to workers' compensation as a benefit rather than treating injured workers as "claimants."
SCOTUS rendered a decision regarding the scope of physicians' liability when prescribing opioids in "good faith"

The Supreme Court (SCOTUS) delivered a decision on Monday regarding the scope of physicians' liability when prescribing opioids. In a unanimous decision, the court found in favor of two doctors convicted of misusing their licenses who prescribed high volumes of opioids to their patients. The decision will allow the two physicians to challenge their convictions in the federal appeals court. SCOTUS's rationale for the ruling is that the doctors did not receive a fair trial since jurors were previously not required to consider whether the physicians had "good faith" reasons to believe their opioid prescriptions were medically valid. In his written opinion aligned with his fellow justices, Justice Breyer stated that "once defendants produce evidence that they were authorized to dispense controlled substances like opioids, prosecutors must prove they knew they were acting in an unauthorized manner." After several divisions in lower courts regarding the standard under which doctors can be convicted under the Federal Controlled Substances Act, SCOTUS's conclusion brings significant clarity.
WCRI released its latest report regarding policy choice implications in work' comp fee schedules, advocating for a "balanced approach"

The Workers' Compensation Research Institute (WCRI) released its latest study regarding policy choice implications for workers' compensation fee schedules. Researchers believe that fee schedule policies overall require a delicate balance as "setting rates too low may make treating workers uneconomical for providers and jeopardizes workers' access to quality care. Conversely, if rates are set too high, savings will negligible, and the fee schedule will not achieve cost containment goals." On average, states such as Florida and Massachusetts set their workers' compensation fee schedule rates within 20% of Medicare rates across all professional service groups, whereas other states like Alaska, Idaho, Illinois, Nevada, North Dakota, and Virginia set fee schedule rates at levels twice that of Medicare at the state level. Findings show that almost one-fourth of the fee schedule states establish rates for office visits near Medicare level or less. Meanwhile, one-fourth of the states set rates for major surgery at three times that of Medicare rates in their respective states. It is important to note that the study does have limitations as the research only covers professional services, which comprise 43 percent of total workers' compensation medical expenditures. Pharmacy fee schedules are not included in the study.
In Florida Covid claims continue to see a significant decline

Division of Workers' Compensation officials report a significant decrease in covid-19 claims for March and April in the Sunshine state. The report shows 104 claims were filed in March and 188 in April, following higher claim counts of 593 in February and 5,955 during January. With these new numbers, the DWC says that 72,152 covid-19 indemnity claims have been filed in Florida since 2020, with employers paying out 193.8 million in benefits. Data shows that approximately half of covid-19 claims are accepted. Employers denied partially or, in total, 35,781 claims.
Ohio Governor signed H447 into law which could significantly limit work-from-home injuries in work comp

H447 received the Governor's signature on Wednesday after passing the Senate in late May. The bill aims to clarify workers' compensation eligibility when working from home. Prior to H447's passage, injuries to workers while working at home followed the same standards as a work injury when physically present at work. Through this legislation, injured workers who work from home will likely encounter a higher burden of proof and stricter criteria in order to qualify for workers' compensation benefits.
Note: To access audio for the LWU please access audio via Adobe by a.) choosing "view" at the top menu b.) click "activate read out loud" c.) click "read to end of the document".
Stay connected to all relevant information in workers' compensation and pharmacy by subscribing to our weekly newsletter. For last week's wrap-up, please click here.