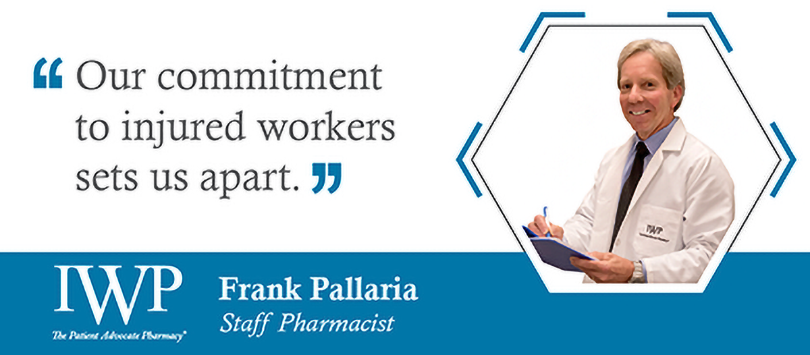 Meet Frank Pallaria, RPh. Frank is a Staff Pharmacist at IWP who takes great pleasure in working closely with injured workers and their treating physicians to ensure that his patients receive top-notch prescription care. Having worked in a retail pharmacy for years, Frank has a unique understanding of health care as a whole and of pharmacy care, in particular.
After joining IWP, Frank quickly realized the differences between retail pharmacies and IWP with respect to how we're able to care for injured workers to provide the guidance and understanding they need. In addition to helping patients with his expertise, Frank also offers an ear and a shoulder to any injured worker who needs to be heard. That's one of the reasons that he matters so much to the workers' comp patients under his care.
When he's not working at the pharmacy, calling patients to check-in and see how they're doing, and working with their doctors, you can find Frank at the gym, training for a boxing match, or making homemade wine in his basement. We want you to get to know Frank a little better, so we're offering a peek into his work as a Pharmacist at IWP and his life outside of the pharmacy.
Frank, what is the most rewarding part of your job?
I like it when people send accolades and appreciate what we're doing. I get proactively involved and I think our patients feel better when someone reaches out. The follow-up is the most rewarding part of my job because I think it's comforting for patients to know that there's somebody looking out for them on the other side.
How have our patients impacted your role here at IWP?
Our patients have made me a better Pharmacist. You know, I started out in a retail pharmacy, and you might be on a call with a patient for a couple of minutes, whether they're a workers' compensation patient or not. Here, you realize how important it is to stop and listen to these people. I might be on the phone with one patient for fifteen minutes, but they walk away feeling like somebody's on their side. That's all they want – someone to listen because they just want to be heard.
Describe a time where you felt most fulfilled by your job?
Anytime I can help put a patient's mind at ease, it makes me feel fulfilled. I've got patients I've worked with for years. It always feels good when they call and ask for me by name because they want to chat, or they think something could bar them from getting their prescriptions filled. I'm always all over that with whatever I have to do – call their doctor, work on getting prior authorization, etc.
What do you think sets IWP apart from other pharmacies?
Our commitment to injured workers sets us apart. I've worked in a retail pharmacy for years. They serve everyone, so they don't always have the time to devote to injured workers. The workers' comp system, it can get complicated, and patients might be on several different medications or need to have their medication managed for them, and retail pharmacies may not be set up to do that. Since we specialize in workers' compensation and that's all we do, we have the knowledge and the resources to be more invested and more personal.
What is your favorite thing to do outside of being a spectacular Pharmacist?
I like to stay fit, you know? Every day, I'm either working out at the gym or boxing – or both. Throw a little yoga in there, too. I box competitively, so I get a kick out of training for matches. I also like making my own wine, but that's mostly in the fall.
What accomplishment are you most proud of?
I'm proud that I can still box and do it competitively – that takes a lot of dedication and stamina, you know? And I'm licensed in 17 states. I'm definitely pretty proud of that. It means I can help more patients, and that's what it's all about.