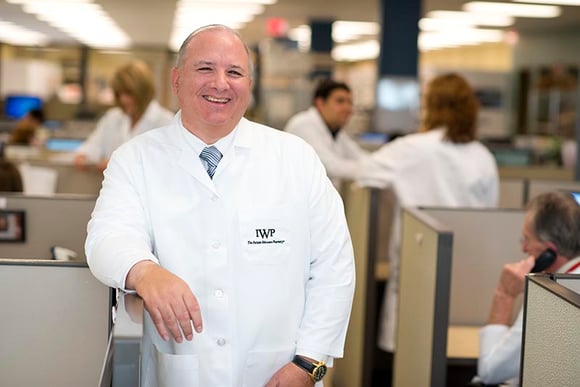 Pharmacists across the nation are celebrating October as American Pharmacists Month, a month that recognizes pharmacists as medication experts and integral members of the health care team. Through their expertise, pharmacists have helped their patients with a variety of health related issues, including recovering from an injury, recuperating from an illness and better adhering to their medications.
A study released by Mayo Clinic shows that seven out of 10 Americans take at least one prescription drug and more than half of Americans take two prescription medications. Because pharmacists play such an active role in the populations' health, getting to know your pharmacist, whether at a local or national level, is imperative.
With more than eleven years working as a pharmacist at IWP, Pharmacy Manager Roger Scandura helped provide some valuable insight into what makes IWP pharmacists a crucial part of each patient's treatment team. As Roger explains, "Our pharmacists go the extra mile to make sure patients are satisfied. With home delivery, patients do not have to leave their house to get their prescriptions and can focus on recovering."
Recently, Roger was working with an injured patient who has having difficulty with his insurance companies request for medication reports. When Roger seamlessly provided the patient with a complete history of medications, it alleviated any concern that the patient had.
Roger also shared his experience working with a family member of a severely injured patient. When a local pharmacy wasn't able to provide her with her husband's medications, she contacted IWP to have the prescription transferred. "We got the prescription from the local pharmacy, filled it and shipped it overnight so that the patient had his medications exactly when he needed them", Roger explained.
Working with catastrophic and difficult cases has even become something IWP specializes in. Another IWP Pharmacist, Dawn Getchell, helped one injured worker and his family develop a pharmacy care management plan that would eliminate any possible adverse drug reactions and save the insurance company on medication costs.
Through programs like our Four-Point Quality Check and daily prescription drug monitoring program (PDMP) checks, patients can rest assured that their safety and well-being is in good hands. As we at IWP continue to celebrate American Pharmacists Month we encourage patients to know your medicine, know your pharmacist.