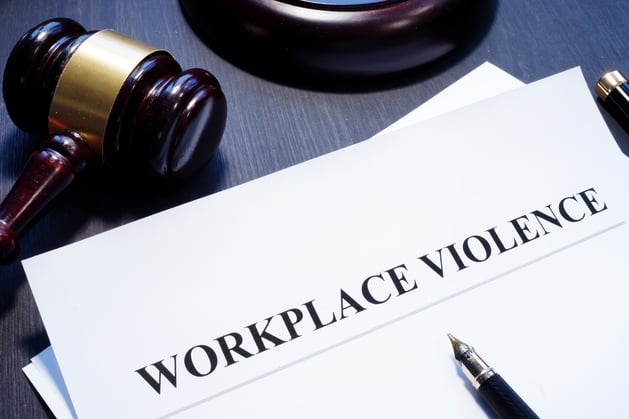 The Bureau of Justice Statistics released its Indicators of Workplace Violence study analyzing data up to 2019. Findings show that 1.4 million non-fatal workplace violence victimizations occurred from 2015 to 2019. Violent victimizations include simple assault, aggravated assault, robbery, sexual assault, and rape. Persons in the corrections occupations saw the highest average annual rate of non-fatal workplace violence at 149.1 per 1,000 workers among all occupations. The average rate of non-fatal violent crimes for workers aged 16 or older across major industries saw an 8.0 rate per 1,000 workers. In this five-year span male offenders accounted for the majority of workplace violence instances at 64 percent, and 47 percent of all offenders were indicated as strangers. Fifteen percent of victims who experience non-fatal workplace violence reported severe emotional distress due to the crime. Females saw higher rates of non-fatal workplace violence than men at 5.1 cases per every 10,000 full-time employees compared to men at 2.3.

More than 1 in 3 workplace injury victims are not covered by employer-based health insurance, underscoring the need for workers' compensation coverage. Research from Value Penguin using Bureau of Labor Statistics data shows that employees in occupations with higher injury rates are generally less likely to have employer-based health insurance. Most of these high-risk occupations were located out west, with Wyoming ranking first at 5.8 percent of the state's population working in the top 10 most dangerous occupations. Whereas areas on the East Coast were among the lowest such as the District of Columbia, with just 0.6 percent of its population involved with treacherous occupational duties. 2020 saw 1,176,530 reported workplace injuries, with 441,357 of these workplace injuries not covered by employer-based health insurance. Injured workers who needed to take time off due to injury were 7.8 percent less likely to be covered. High injury rate occupations included farming, fishing, and forestry, where just 36.7% of workers had employer-based health insurance and 70% had some form of health insurance. However, those not on employer-based healthcare plans were likely underinsured. 30% of the farming, fishing, and forestry occupations were uninsured. Other significantly uninsured or underinsured industries included health care support staff, transportation, and construction.

Recently released studies show that non-opioid pain prescriptions increased following 2016 CDC guidelines. Utilizing data from 15 million patients, the likelihood of prescribing non-opioid pain medication in 2016 were 3 percent higher when compared to pre-guideline estimates for the same year. This number elevated to 8 percent in 2017 and 9.7 percent in 2018, which were unexpected based on previous trends, according to investigators. The emergence of non-opioid pain medications coincides with the significant drop in opioid prescribing over the years. Experts say that shifts in pain management prescribing led to the increased use of non-pharmacologic treatments such as physical and cognitive behavioral therapy.

With little guidance from the U.S. Supreme Court, medical marijuana in workers' compensation remains a state-by-state issue. A recent New York appellate court case upheld a decision to allow an injured worker to access and be reimbursed for medical cannabis. The injured worker, a fire proofer, filed a claim for an occupational disease that involved his back, hips and legs, and right foot with a disablement date of July 2014. After numerous attempts to quell the injured worker's pain, the physician sought authorization to use medical cannabis as a pain management tool, which the carrier denied. The appellate court ruled in the injured worker's favor as the pain experienced could be viewed as "debilitating and persistent pain that degrades health and functional capabilities." The court noted previous precedent as reason to uphold the authorization for medical cannabis.

The Texas Observer recently posted a detailed piece on the barriers first responders face when injured or sick. The article mainly focuses on the Texas Municipal League Workers' Compensation Joint Fund (TMLIRP). This small government agency provides coverage to 215,00 employees in more than 2,800 cities and government agencies across the Lone Star state. Injured first responders are facing high denial rates from municipalities, while the TMLIRP notes a net position of $104.6 million after paying out $86.5 million for the 2020-2021 fiscal year. With the agency's robust financial condition, several Texas first responders wonder why their claims are repeatedly subject to denials. A group of Texas legislators is attempting to penalize insurers, including self-insured cities, for denying eligible claims and believe that education on the workers' compensation system with city officials would be beneficial. However, the bill initially proposed in 2019 to abet this issue consistently fails to materialize within the legislature.
The DWC

announced

it will evaluate health care practitioners based on three measures as part of the 2023 performance-based oversight assessment process. Results will be published in December 2023. Division officials say they will assess providers on:
documentation of off-work status supporting how the injured employee's medical condition prevents them from returning to any work as reported on Form 073.

completeness of the DWC Form-073.

designated doctors' timeliness of filing the DWC Form-069, Report of Medical Evaluation with DWC.
Note: To access audio for the LWU please access audio via Adobe by a.) choosing "view" at the top menu b.) click "activate read out loud" c.) click "read to end of the document".
Stay connected to all relevant information in workers' compensation and pharmacy by subscribing to our weekly newsletter. For last week's wrap-up, please click here.