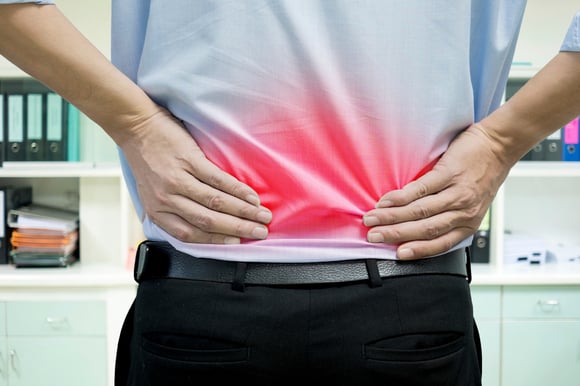 The American College of Physicians recently released new clinical practice guidelines that recommend non-drug therapies as the first place to start when treating low back pain. Whether the low back pain is acute (lasting less than 4 weeks), subacute (4-12 weeks), or chronic (lasting more than 12 weeks), clinicians and patients should not initially select medications alone to improve low back pain and function.
In fact, this review reveals specific recommendations for each phase of low back pain, and notes even for chronic low back pain, "Nonpharmacologic interventions are considered as first-line options" and fewer harms are associated with these types of therapies than with pharmacologic options.
Treatment Recommendations for Acute or Subacute Low Back Pain
For acute or subacute low back pain, treatment recommendations include; superficial heat, massage, acupuncture, or spinal manipulation. If pharmacologic treatment is necessary, clinicians and patients should select nonsteroidal anti-inflammatory drugs or skeletal muscle relaxants.
Treatment Recommendations for Chronic Low Back Pain
For chronic low back pain, clinicians and patients should initially select non-drug treatment such as exercise, multidisciplinary rehabilitation, acupuncture, mindfulness-based stress reduction, tai chi, yoga, motor control exercise, progressive, relaxation, electromyography biofeedback, low-level laser therapy, operant therapy, cognitive behavioral therapy, or spinal manipulation.
If there is truly an inadequate response to non-drug therapies, then medications that can be considered include nonsteroidal anti-inflammatory drugs, and then tramadol or duloxetine. Opioids, which the guideline states "are associated with substantial harms" would only be considered as a last option in patients who have failed the previously mentioned treatments and only if there has been a discussion between clinician and patient that determines the potential realistic benefits outweigh the known risks.
So the next time you or someone you know has a hurt back, according to the recent treatment guideline, the first question shouldn't be 'what can I take for my back?', but 'what can I do for my back?' This guideline reveals there are a whole host of non-drug options to improve pain and or function with low back injuries and it is important and recommended to give them a try.