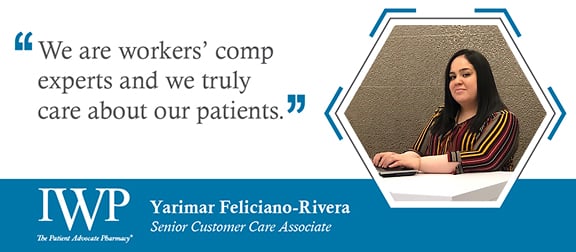 Meet Yarimar Feliciano-Rivera. You may not recognize her face, but Yarimar is the voice behind many of the phone calls made to our patients – you may have even spoken to her yourself!
As a Senior Customer Care Associate, Yarimar dedicates her time to making sure our patients always have their workers' comp prescriptions when and where they need them. For her, making the recovery process a little less painful for the injured worker is high priority.
Learn more about Yarimar and how our patients have impacted her role at IWP.
Yarimar, what is the most rewarding part about your job?
Knowing that I am a part of a pharmacy that truly goes above and beyond every day to make sure our patients are not struggling with workers' comp prescription issues. Injured workers have more than enough on their plates, so it must be so difficult to also have to deal with the complications of the work comp prescription process.
What sets IWP apart from other pharmacies?
Everything! We are workers' comp experts and we truly care about our patients. The main difference for me is how many different departments we have advocating for our patients. Typically, this is done by one person at the local pharmacy, whereas IWP works as a team to make sure the injured worker is focused in their recovery while we handle everything else.
We take the time to do all the background work to make sure our patients can rest easy with the medication portion of their claim.
If you could have any other profession, what would it be?
I cannot imagine having a profession outside of IWP. It wouldn't feel like home and I would not have the chance to impact patients' lives. I would love to continue to grow professionally inside IWP.
What accomplishment do you feel most proud of?
Receiving the IWP Employee of the Quarter award. Taking care of our patients is the ultimate pay off, but earning an award reminds you that your work is not going unnoticed by the company.
What is your favorite thing to do outside of work?
I love reading science fiction books like Harry Potter and watching movies.
Have you had a great experience with Yarimar? Comment below and let her know how she has helped you in your recovery!