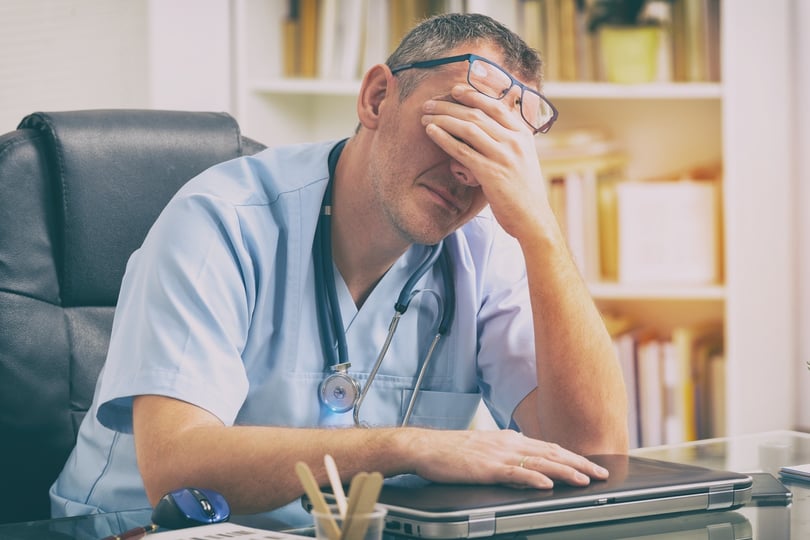 In a typical week, practitioners treat over 90 patients through in-office, home care, or telemedicine encounters. In addition to practicing medicine, many practitioners are spending their day charting, building their practice, or attending to administrative needs.
For medical offices who treat injured workers, their workload becomes far more intense – dealing with patient calls, insurance carrier follow-up and a tremendous amount of back and fourth regarding coverage of care and prescription medications. Doctors are feeling the burnout and their medical practices are suffering as a result.
That's where Injured Workers Pharmacy comes in. As a specialized workers' compensation pharmacy, we form relationships with the prescriber and office staff to remove the burden of administrative hassles they typically encounter when handling workers' comp claims. Unlike retail pharmacies, we're equipped to handle the nuances of workers' comp and advocate for injured workers in the process.
As pharmacists, we understand what both injured workers and their doctors deal with on a daily basis. We're here to help our patients recover from their injury, while making the work load a little lighter on you and your staff. Here's how:
We're always here for you.
Once your patient is enrolled with IWP, they become our patient, too. We build strong relationships with our patients so that they feel comfortable asking medication-related questions. When we handle these types of prescription questions or issues, it frees up your time and resources and allows you to focus your efforts where you want them.
Retail pharmacists typically work a rotating schedule, which makes it difficult for patients and office staff to connect with an individual pharmacist. Our Pharmacist staff is available Monday through Saturday, allowing both you and your patients to work closely with a designated pharmacist and feel comfort in knowing that one person is always there for you.
We have your best interest in mind.
In today's world, the opioid epidemic has plagued the entire healthcare system and the people it serves. For that reason, IWP is responsible for reporting the dispensing of controlled substances to all active state Prescription Drug Monitoring Programs (PDMP). And while states are implementing new PDMP rules, IWP is already going above and beyond, reporting daily to all state PDMPs since December 2011 – far more frequently than the weekly to monthly reporting required by law. Our Pharmacist staff have access to state PDMPs and are trained to complete reviews and take appropriate action based on any potential addiction or diversion situation.
Why is this important to you? Eighty percent of workers' compensation patients are treated by two or more providers. Workers' compensation patients are also significantly more likely to receive narcotics. When your patients fill their workers' comp prescriptions through our pharmacy – we have your back. Our PDMP checks give us a glimpse into the medications other prescribers are writing, giving us the ability to connect back with you if any issues arise with the prescriptions. We'll alert you of any possible double-dipping, diversion or doctor shopping situations.
We offer clinical counseling and intervention.
Our pharmacists average 25 years' pharmacy experience and specialize in providing prescription care to injured workers. Our clinical counseling services are unmatched in the industry, as we have more dedicated time to work with prescribers on medication-related questions, drug formulary issues and handle all medication prior-authorizations.
Our drug utilization review systems also give us insight into any potentially harmful drug interactions, like the "Holy Trinity", as well as any patient allergies that may not have been divulged to your team. As we form these important relationships with your patients and your office, we'll keep you informed on any updates regarding the prescription process. Most importantly, we're available to you, the prescriber, to provide guidance on any issues or questions involving medications.
Our responsibility as pharmacists is to ensure our patients are receiving the highest quality prescription care possible. But, it's what we do outside of that that makes our team so unique. We're here to assist you and your practice at a moments notice.