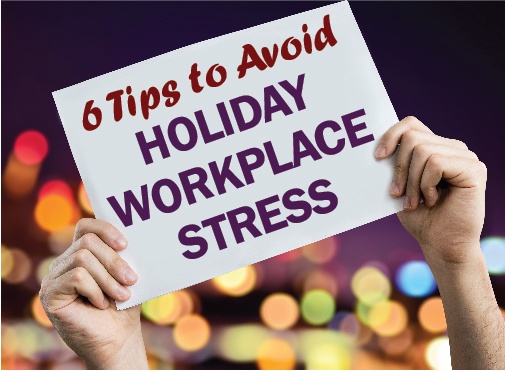 It's no surprise that the holiday season gets everyone excited. From decorating our homes, searching for the perfect gifts, indulging in extra helpings of food and visiting with loved ones; the holidays are a joyous time. However, the holidays can also bring stress, especially in the workplace. Employees start fighting the urge to procrastinate on tasks, taking extra time off from work, and balancing situations in their personal lives.
Here are six tips and tricks to help you alleviate holiday workplace stress.
Protect yourself and your coworkers from the cold and flu - The holidays are a time for sharing, but not for sharing germs that could make your coworkers sick. You can prevent the spreading of germs in the workplace by disinfecting your work area, washing your hands often and covering your mouth (not with your hands) when you cough. Avoid touching food directly during those company potlucks and use serving utensils. As you take these preventative steps, you will help to protect your coworkers from receiving a gift they certainly don't want for the holidays.
Leave home at home, and leave work at work - It is easy to let the stresses of home life stem into your day-to-day tasks while at work. The same can be said about workplace stress affecting your home life. Take a moment before and after work to reduce stress by doing a quick exercise session, practice calming breaths or doing something that brings you happiness.
Try to not take anything too personally - The holiday season can really put people on edge. If a coworker has a short fuse, take a moment before reacting to recognize that they may have a lot of stress they are currently trying to handle. By pausing before reacting, you'll find that your stress level will be lowered. You'll spend less time worrying about what others are thinking or experiencing strong emotions about a certain work situation.
Drink lots of water - Staying hydrated throughout the work day will increase your level of alertness. To encourage hydration throughout the work day, keep a full water bottle at your desk and replenish when your bottle is low or out of water. Don't forget that coffee causes dehydration.
Make time for exercise - Exercising is a natural treatment to reduce stress. Exercise increases your endorphins, which produces feel-good neurotransmitters in your brain. Taking time to exercise also helps your brain to strengthen its focus and ability to recharge. Aim for being active 30 minutes a day, such as taking a walk outside or around the office, utilizing your company's work out room, if applicable.
Take time to be thankful - Giving compliments and recognizing coworkers who are helping one another throughout the work day can help to lift the spirit of not only your colleagues, but for yourself. Taking a moment to provide a compliment or words of encouragement, your coworkers will ultimately support an overall increase in your coworker's self-esteem while knowing that you are recognizing their efforts.
In addition, if you are experiencing above average levels of workplace stress, talk with your manager or supervisor to work out solutions to your concerns. If you find it difficult to schedule time during your work day to reduce stress, consider blocking off a period time on your calendar to remind yourself to practice stress-relieving methods instead of letting a 'ba humbug' outlook get to you during the holidays, try adding these simple tips into your daily routine while at work.