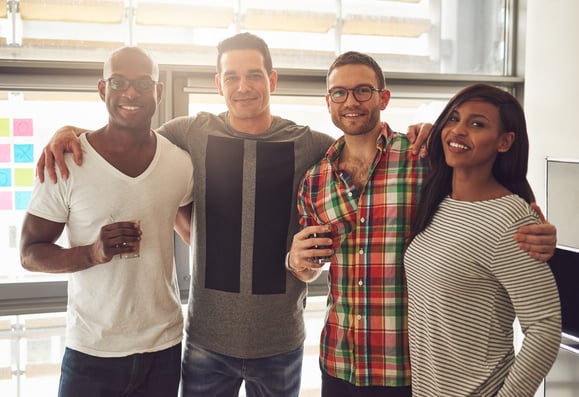 Why not smile and greet strangers with a hello? Why not lift up your coworkers to motivate them? Why not choose to be happy? The way we look at life on a daily basis can have a direct impact on the workplace and your work life. A positive work environment will always be a more enjoyable one and help drive more success – creating deeper connections and overall better quality of life.
Each day we spend approximately eight hours on the job. Between conflicting personalities, tight timelines and heavy workloads, negativity can easily fester and drag you down. A negative work day is hard to leave at the door, which can also deeply impact the way you feel once you're home.
Studies have shown that happy employees have 31 percent higher productivity, 37 percent higher sales and three times more creativity. With an American workforce that is heavily disengaged, here are four major components of building positivity in the workplace and why you should start today.
Performance - Positive Feedback
Sharing positive feedback is key in your team's performance. It's just as important, if not more, to tell employees or coworkers what they're doing right, as opposed to constantly sharing negative feedback.
Tell your newest hire how they've excelled at their job role and be sure to include real life examples. Simply saying "great job" can be motivating, but sharing specific situations can let the person know exactly where their efforts have been noticed. This will give the employee confidence and drive them to push themselves to new limits.
Find yourself only scheduling meetings or sending emails when a team member has made an error? Remember that some of the top reasons why employees quit their jobs are because of their relationships with their boss or with coworkers. Help foster a more positive environment by encouraging positive feedback among all team members with recognition in team meetings or group settings
Productivity - Team Spirit
Team spirit isn't limited to rooting for your favorite football team. Spirit around the work place can be beneficial to employee engagement and retention.
Team spirit, whether in the form of events or recognition, can create trust, boost morale and build confidence. Consider the importance of having fun at work and try implementing monthly or quarterly initiatives to keep employees engaged and build comradery among other departments.
Being part of a team can feel empowering. Together, employees will feed off one another and encourage them to go the extra mile.
Motivation - Challenges/Rewards
Motivation tends to go hand in hand with team spirit. It is always fun to be driven by a challenge; it promotes problem solving skills, communication skills, team work and most of all FUN!
Introducing a team challenge to the group may allow a person that normally doesn't have the opportunity to "shine" to stand out from the rest – helping to build confidence. As a result, these employees may make new connections and produce better work.
Reward your team, whether verbally or with a token of appreciation, for overcoming work challenges, hitting or exceeding a goal or just for outstanding work. This will make your team feel more appreciated and want to do more to consistently improve their quality of work.
Culture - Communication:
Failing to communicate effectively in the work place can often lead to frustration, confusion and cause your employees to shut down. A Watson Wyatt study found that companies who communicate effectively are 50 percent more likely to report turnover levels below the industry average.
It is important to always keep the lines of communication open and be forthcoming with changes that may be occurring – while being approachable and engaging on the topic. Consider holding a quarterly "Town Hall", where employees can ask upper management questions that they have about the company, industry, strategy and direction.
By being as transparent as possible, you're creating trust within your company, which will result in better synergy across teams. Remember, communication isn't limited to verbal interaction. Social cues, like smiling, can be welcoming and trusting. A smile is the universal language of kindness.
Like negativity, kindness is contagious. Building positivity in the workplace will help build a more proactive and satisfied workforce, but also help further the mental well-being of employees outside of work. If you think positive, positive things will happen.