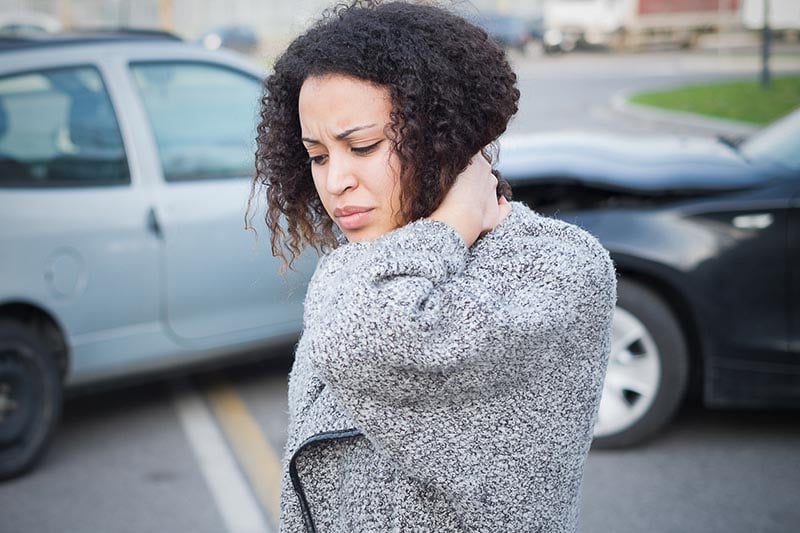 It sounded like an explosion. I felt tiny stings across my face and legs as the car door was ripped out of my hand. What was going on? I wasn't even moving. I was just parked in my car reviewing my notes before running in to make my fourth call of the day—and now I couldn't even open my eyes.
I was bleeding, my ears were ringing. Only moments later, a man handed me a towel and asked if I was okay. I held it over my left eye and opened my right to see 3 police officers standing outside my car and my driver's side door ripped off and splayed into the street. There was glass everywhere from my shattered window and I realized my car had been struck by a passing SUV right in front of a police station.
I never imagined the medical, legal, and employment entanglements that I was about to face over the next year or how closely I would come to rely on my attorney and a very special pharmacy to help guide me through the process.
My workers' comp experience was a process of trial and error. I made mistakes at every turn simply because I'd never experienced life as an injured worker. I didn't realize I wasn't supposed to use my own insurance, or that my employer was now an oppositional party, and that I couldn't talk to my coworkers about my situation. I never used an attorney before and didn't understand how or why they really had my best interest at heart if I wasn't paying them—I just hired him because a friend advised me to without understanding why I would even need someone to defend me against my own employer who'd always taken care of me.
Now that I am recovered and my claim has come to a close, there are important pieces I feel obligated to share with other injured workers who may not know what's to come.
BE INFORMATIVE AND CONCISE
First things first, inform your employer of your work injury and stick to the basic facts. Write down or record exactly what you say to them and keep it basic and simple. Always let any doctor you speak with know that they are treating you for a work injury. Otherwise your personal insurance will be billed and once they discover it is a work-related injury they will deny coverage and bill you directly.
GET AN ATTORNEY AS SOON AS POSSIBLE
Make it a priority to get represented by a workers' compensation attorney. Do not contact your own insurance company first as this will just create more confusion down the road as parties try to determine liability. The attorney will make sure your employer does what they are supposed to do as far as reporting your injury to the appropriate parties and starting the complex and time sensitive filing process.
Under the advice of a friend, I retained an attorney a few days after my accident and although my employer was dismayed to find out they could no longer contact me directly, this was the best thing I did. They also referred me to Injured Workers Pharmacy (IWP) for my workers' comp prescriptions, so I never had to drive and stand in line at a retail pharmacy or pay to receive the medication I needed. This meant a lot because between my eye, shoulder, and back injuries there were about 9 prescriptions that I needed over the course of my claim.
YOUR ATTORNEY IS YOUR FRIEND
Confide in your attorney, ask them your questions, and go to the physicians they recommend (if your state permits patient choice). Your attorney knows the process and truly has your best interest in mind. Always follow up doctor visits by sending everything to your attorney – everything.
Keep receipts for every ice pack, heating pad, massager, pillow, compression sock, bandage, and cream you purchase for your personal use as you heal and send this information to your attorney. Doing these things will help the attorney build a factual solid case for you which will provide you adequate compensation as well as consistent and proper care during the time you are on your own and unemployed. Workers' compensation benefits are usually around 66% of your yearly income, so you will need to hang on to every dollar during this time.
CARRIER VS. ATTORNEY IME
Independent Medical Exams, or IMEs, are typically performed by a doctor hired by your employer's insurance carrier and usually geared towards showing that you are not injured and can return to work. This makes your case less expensive for the carrier.
On the flip side, attorney IMEs are performed by a physician hired by your attorney to show the true extent of your injuries without financial bias and declare if you can actually perform your duties and return to work.
I made the mistake of missing a carrier IME and had to jump through hoops to reschedule it. Then, it was scheduled with a doctor 30 miles away from my home and I couldn't drive because my back injury made sitting longer than a few minutes painful for me.
During my carrier IME, the physician asked me a lot of questions including my marital status and manipulated my arm roughly which even made me cry out in pain due to my torn rotator cuff, but oddly enough, there was no mention of that in his notes where he stated my responses were inconsistent with the injury. Conversely, at the attorney IME, the physician put me through a series of movement tests, lifting, turning, bending, stepping up and down and measuring my movements. After this, they established that my 4 months of physical therapy had been effective in some areas and needed to continue in others before I returned to work.
RETURNING TO WORK
Nobody wants to live on 66% of their income and in pain, so although you want to return to work as soon as possible it is important to ensure you receive all the care and examinations possible because once your case settles there is no recourse for any further treatment or medications for the injuries associated with your work injury.
Employers are required to try to find you suitable work within the company, but that isn't always possible. As a field sales representative, there was no local office in my area. Also, my job required that I be walking around business districts all day long making sales calls. I received a form requesting what alternative employment or accommodations I would need from my employer. I didn't understand what this form was for and I waited too long to forward it to my attorney. My employer used that missed form submission as grounds to terminate my employment at the company.
At the end of the day, its most important to protect yourself and your healthcare needs. And in a complex environment like workers' comp, where an employee is suddenly injured, there are lots of complexities that can occur.
YOU WILL BE OKAY
All those feelings and anxieties are normal. What helped me through my work injury was having a trusted team around me. In my instance, my wounds healed and the emotional scares subsided, but others may not be as lucky. Be sure to lean on others for emotional and physical support and find health care professionals who make you feel good.
As I mentioned, my attorney recommended me to use IWP for my workers' compensation medications.
This pharmacy helped me through one of the most confusing times in my life. I called on IWP for guidance almost as often as I called my attorney because they were easier to get on the phone when I had a question. They became a trusted advisor for me because medication is the aspect of my injury that I dealt with not just at doctor appointments, but every time I opened my medicine cabinet.
Now, six years after being hurt at work, I joined IWP team as a Sales Territory Manager and am extending a helping hand to injured workers in Virginia to help them make a dark time in their lives just a little bit brighter. Now that's coming full circle.