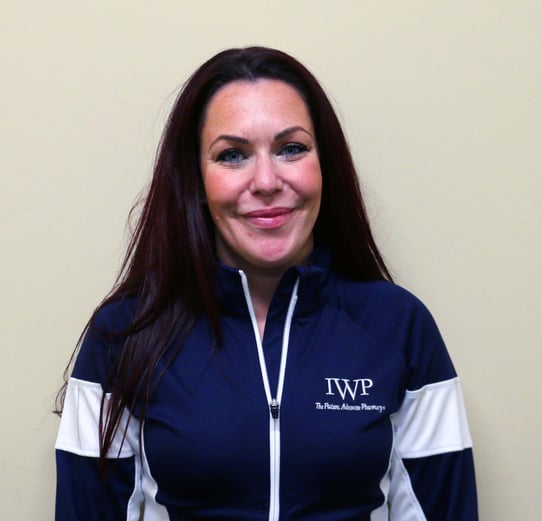 How has working with IWP Patients impacted you?
Working with IWP Patients has reminded me why I got into the field of pharmacy in the first place. Being able to assist patients to get access to their needed medication, despite the many roadblocks of the Worker's Compensation and Healthcare System is extremely rewarding. Hearing the stories and struggles these patients have been through over the years make me proud to be part of a team advocating on their behalf for the care they need.
What do you like most about your position?
As the Manager of Pharmacy Operations, I am able to be involved in many different areas of the business. I oversee the daily operations of the Pharmacy Department, help develop and implement process improvements, and work on new ways to improve patient care and clinical outcomes. I am frequently presented with different challenges and problems and enjoy working with my IWP Team, both inside and outside of the Pharmacy Department, to reach a solution.
What do you like to do off the clock?
Off the clock you can usually find me chasing my two very high-energy daughters around. I also enjoy cooking (and eating) and am an avid fan of the Boston Bruins.
What do you think sets IWP apart from other Pharmacies?
IWP is uniquely positioned to be able to provide care to the patients that are typically turned away from your standard retail setting. Whether it be a complex medication regimen, a restrictive state formulary, or just a lack of accessibility to the medications they need, IWP is able to step in and provide the care these patients need. As a pharmacy specializing in Worker's Compensation, we have an abundance of knowledge in an area that most other pharmacies have very little exposure to.
Where did you go to school and what particular focus did you have in pharmacy?
I went to Northeastern University in Boston, MA. In pharmacy school, I always had a passion for medication management and patient counseling as I believe it is one of the most important (if not the most important) aspects of healthcare and patients' overall well-being. You can have all the procedures and doctor's appointments in the world but at the end of the day if you do not take your medication you will not see the results.
Professionally or personally what major accomplishments are you proud of?
Professionally I am most proud of the Pharmacy Team we have been able to develop over the past few years and everything we have been able to accomplish. The development and implementation of the Initial High-Risk Prescription and At-Risk Patient Programs is a huge point of pride for me as it is something I have been very intimately involved in over the past year. These programs set IWP apart from a standard retail pharmacy and deliver top-of-the-line patient care.
Personally, I am very proud of (almost) completing the major house renovation we took on about two years ago, which had become a second full-time job itself.
Can you tell us a time us about a time you felt most fulfilled by your job?
I work very closely with a patient who is on a complicated medication regimen. Not only are their medications frequently on market shortages or backorders but they are also tightly regulated due to the medication schedule and potential risk if misused. Every month an additional attestation must be completed by both the prescriber and pharmacist before the prescription can be filled. Recently this patient told me that until they found IWP they were ready to give up on pursuing their care and treatment because they found it more exhaustive to try to get their prescriptions filled every month than they believed she benefitted from the medications.
What first interested in you in going into pharmacy work?
I have always been very interested in both math and science so pharmacy was a natural fit. I was lucky enough to have exposure to the field of pharmacy at a young age as I worked part-time at a local retail pharmacy after high school. The opportunity to have such frequent and influential patient interactions as pharmacists do is unrivaled within any other area of healthcare.