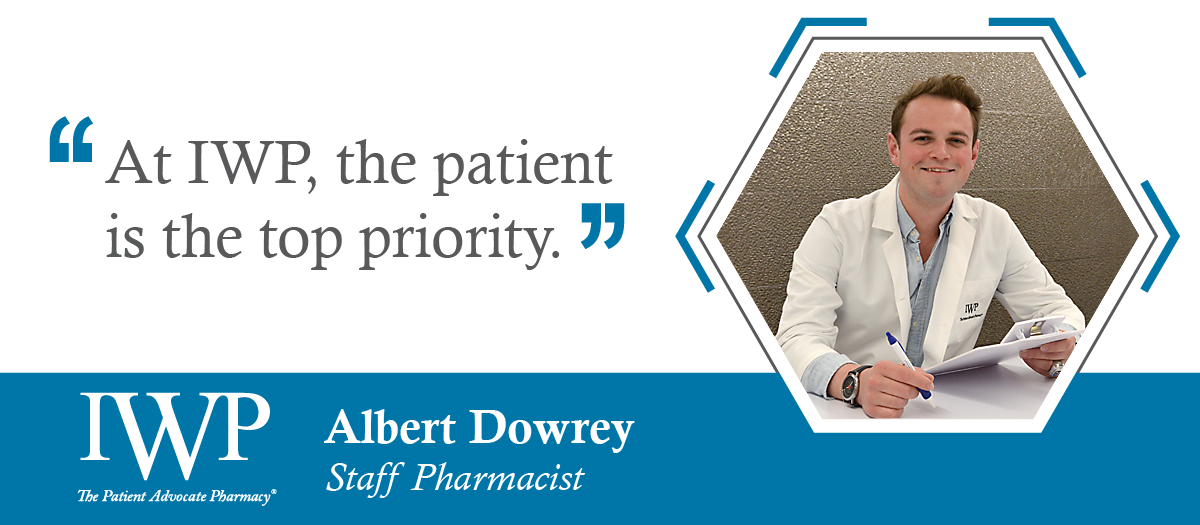 Meet Albert Dowrey, PharmD. As an IWP Pharmacist, Albert's day consists of verifying medications, reviewing patients' health concerns, and monitoring individual's PMDP history. Albert works with injured workers on a variety of concerns, from allergies to medication availability, and ensures that all IWP patients receive the highest-level prescription care.
Albert's work is instrumental to IWP as he works daily with injured workers, helping them receive the care they need on their way to recovery.
Get a glimpse into Albert's life here at IWP and learn what he's most proud of both professional and personally.
Being a pharmacist, you interact with patients daily. Can you tell us how IWP patients have impacted you and your role as a pharmacist?
Prior to my time at IWP, I was unaware of the challenges an injured worker faces within our healthcare system. At IWP, I've enjoyed being able to help patients successfully navigate their way through these hurdles and get the care they so desperately need.
Can you tell us about a time when you felt most fulfilled by your job?
I once had a patient seek consultation regarding their Lipitor. Unfortunately, the patient wasn't seeing any improvement in his cholesterol even with the medication. After talking with the patient, we realized that they were taking the medication with breakfast instead of taking it at night.
During his next doctor's visit, the patient saw an improvement in their labs and had reduced their risk for a cardiac event. It was so rewarding being able to help this patient with his overall health and well-being.
What do you think sets IWP apart from other pharmacies?
At IWP, the patient is top priority. In today's health care landscape, the patient can face a lot of obstacles such an insurance formularies, prior authorizations, and drug availability. IWP goes above and beyond to provide the patient with the medication they need in a fast manner.
What would you say is the most rewarding part of your job?
I love being able to empower patients by advising them on the clinical impact of their medication, providing answers to any safety concerns and reviewing any side effect they may experience.
Outside of work, what accomplishments do you feel most proud of?
Being the first in my family to attend a traditional college and graduating with my Doctor of Pharmacy (PharmD) degree in 2015 from MCPHS University is something that I am extremely proud of. My parents and brother Todd were a big source of support during that time and I can't thank them enough.
Lastly, what's your favorite thing to do outside of work?
I love spending time at Fenway park with family and friends. I work part time for the Boston Red Sox as an Ambassador, helping with game day activities such as First Pitch, and bringing our World Series Trophies around New England. Go Sox!