Your health matters most.
Important information you should know regarding
Coronavirus Disease 2019 (COVID-19).
What is Coronavirus? As defined by the World Health Organization (WHO), Coronavirus is a large family of viruses that may cause illness in animals and humans. This disease can cause respiratory infections in humans. COVID-19 is the infectious disease caused by the Coronavirus.
How We Can Help
We know getting to your local pharmacy may not always be easy for you – especially in times like this. Many states are recommending or even enforcing stay-at-home measures to encourage social distancing and limit Coronavirus exposure until a COVID vaccine is widely available. By limiting your time in high-traffic areas, you also limit your risk of exposure.
Our home delivery pharmacy service allows you to stay in the comfort of your home and have your workers' compensation medications delivered to you.
→ Get started with home delivery medications
→ Speak with an IWP Pharmacist about your health
Limit your risk of exposure and have your medications delivered to you next-day - with zero cost to you.
Our Preventative Measures
Your health and well-being is at the heart of everything we do. Due to the pace in which the Coronavirus is evolving across the country, we've outlined the preventative measures we're taking to keep both our patients and employees safe and healthy.
While we continue to monitor the situation, IWP will remain open during regular business hours and are taking necessary precautions, like:
Closely following the Centers for Disease Control and Prevention (CDC) and World Health Organization (WHO) guidelines related to COVID-19

Recommend all employees practice good hygiene and preventative health measures, like regular hand washing and social distancing

All Pharmacy staff are required to wear gloves while handling medications

Increased our Pharmacy and office cleaning to promote a healthy work environment

Ask that employees stay home if they are feeling sick or have been exposed to someone who tested positive for the virus

UPS and FedEx are also strictly adhering to regulations and guidelines and are taking the proper health precautions where warranted
We encourage you to connect with our Pharmacy or Patient Support team by calling 888-321-7945 or using our Contact Us page should you have any questions related to your workers' compensation medication.
Helpful Resources Related to Coronavirus (COVID-19)
During this delicate time, we'd like to make sure you have the appropriate resources to limit your potential exposure to Coronavirus.
→ Centers for Disease Control and Prevention (CDC)
→ World Health Organization (WHO)
→ What Workers Should Know During COVID-19
→ Your COVID-19 Vaccine Questions Answered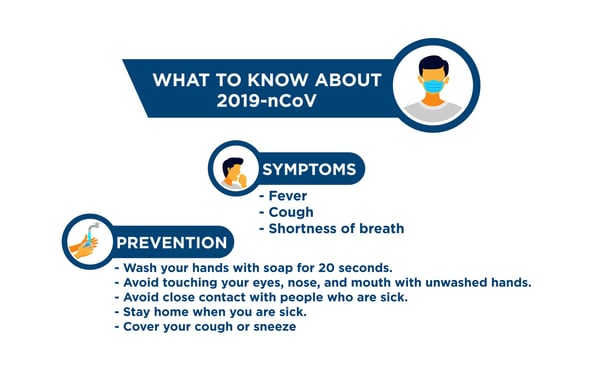 Preventing the Spread of Coronavirus
Protect yourself and others by maintaining social distancing practices. A good rule of thumb is to stay at least 3-6 feet away from others, especially those coughing or sneezing.
Follow recommended hygiene practices, like regular hand washing with warm soapy water or use hand sanitizer.
Seek medical attention early on if you are experiencing symptoms like fever, coughing, and shortness of breath.
Stay home if you're feeling sick. The best way to stop the spread of the Coronavirus is to limit exposure to others as symptoms may occur up to two weeks after exposure.
The most common symptoms of COVID-19 are fever, dry cough, and shortness of breath. WHO also sites that some patients may experience aches and pains, nasal congestion, runny nose, sore throat, or diarrhea.