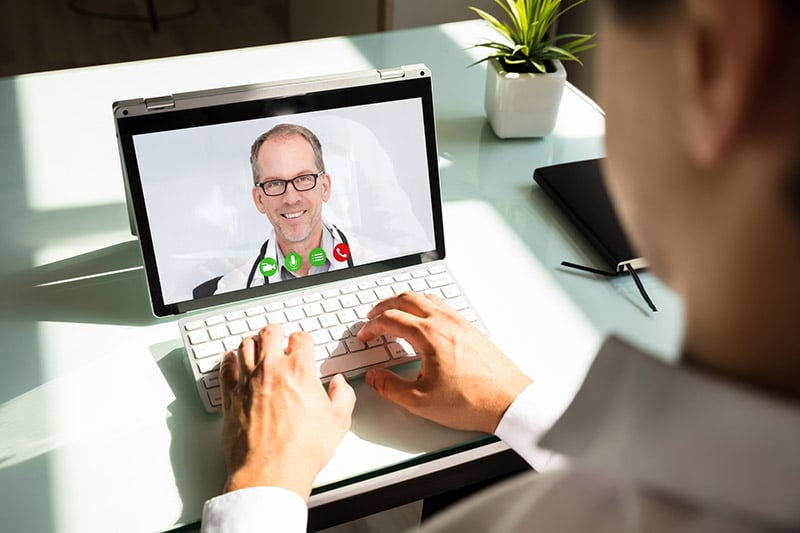 In recent years, Telemedicine has given sick or injured individuals the ability to access the services of a doctor or health care professional without the hassle and burden of an actual doctor's visit. Through virtual visits patients can consult face to face with doctors through laptops, tablets and smartphones.
For the workers' compensation industry, telemedicine is just starting to emerge onto the health care scene with certain employers and even insurance companies pushing for its adoption into everyday work-related injuries.
Among its many benefits and uses, telemedicine can transform the workers' compensation industry by saving time and money for patients and employers, allowing injured workers quicker and more efficient access to high quality care, and allowing easier access to specialists for more complex injuries.
Saving Time and Money for Patients and Employers
According to a report from Towers Watson, the widespread use of . Due to the benefit of almost immediate assessment and evaluation for workers who are injured on the job, the costs associated with travel to and from doctors' visits as well as copays are almost eliminated with the use of virtual visits.
In addition to the costs savings, the time away from work also decreases with the use of this top-level technology. A virtual visit removes the hassle of making an appointment, driving to the office, and then dealing with the check-in and check-out process. Instead, injured workers can simply find a private room with a smart device, enter in some personal information and be connected a doctor instantaneously.
Telemedicine can also be used for follow-up appointments and post-operative visits for workers injured on the job. This once again saves the employer costs and reduces the amount of time the worker is away from work and at appointments.
Quicker and More Efficient Access to High Quality Care
Due to its ability to access healthcare services anywhere, telemedicine breaks down the geographical barriers that many workers can face in remote locations. Remote workers may find themselves miles and hours away from a local medical clinic or hospital, making it difficult to be seen within a reasonable time frame. This program reduces those barriers and allows for injuries to be assed within a timely manner.
Individuals who may be working overnight shifts must often take a trip to the ER if they are injured. ER visits can add up quickly and there is often a long wait to be seen. Telemedicine allows these types of workers the opportunity to consult with a health care professional almost immediately, most often resulting in more efficient care and better patient outcomes overall.
Easier Access to Specialists
While the use of telemedicine will most likely be used for injuries such as sprains, pulled muscles, or minor bruises and scrapes, more complex injuries can benefit from this program as well.
Telemedicine can provide the ability to access and consult specialists who may not be available locally. Far travel and its associated expenses can often deter individuals from seeing specialists who could provide them with another form of high-quality care.
Specialists often provide a higher level of care for specific injuries due to their knowledge about certain conditions or areas of the body. With this technology, a worker who sustained a foot injury can consult a top-level orthopedic doctor across the country without ever leaving the house.
With the many benefits that telemedicine can bring to the workers' compensation industry, it's no wonder that more companies are starting to offer this technology to their employees. The successful use of telemedicine and telehealth in general can result in quicker care, faster recovery, and an overall better outcome for injured workers.